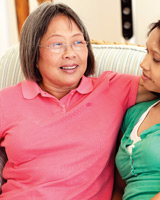 Breast reconstruction is achieved through several plastic surgery techniques that attempt to restore a breast to near normal shape, appearance and size following mastectomy.
Enhancing your appearance with breast reconstruction
Breast reconstruction is a physically and emotionally rewarding procedure for a woman who has lost a breast due to cancer or other condition.
The creation of a new breast can dramatically improve your self-image, self-confidence and quality of life. Although surgery can give you a relatively natural-looking breast, a reconstructed breast will never look or feel exactly the same as the breast that was removed.